From Mess To Success
A Virtual Retreat to Let Go of The Past & Be The Love Magnet You Deserve To Be
Contact
Our Services
If you're frustrated of being in pain after your divorce or separation, but you're ready to let go of the past and move on, then join us for a virtual retreat, where you'll come away with a major shift in your heart that opens you up to love and a radiant new life.
Sitting in front of your computer surrounded by your Zoom sisters, you look into the ceramic bowl with a beautifully scented tea light to start your virtual fire ceremony and ready to burn the letter to yourself.
You have learned how to recognize how you and your ex operated in your broken relationship and not to repeat the same pattern. You feel so relaxed like never before as you've had a few days filled with a full body massage, proper rest time, relaxing meditations, and a walk-in nature to help you breathe the fresh air, be present and be grateful of what you have in life.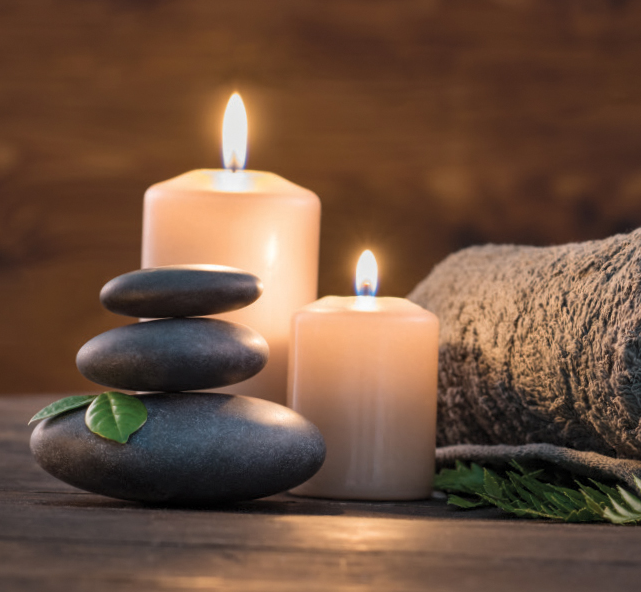 Your letter is filled with empowering words from your wise-self congratulating that you have learnt about building a good relationship with money, food, style, future partner and most importantly your confident, love magnet, worthy of everything you dreamt of, beautiful self.
With the candle burning the paper, you feel like you are standing in front of a campfire, feeling absolutely supported by other souls who understand you, to completely let go of your past baggage.
As you watch the paper burn, you feel a heavy weight lifting from your shoulders and a new excitement rushing through your body. Now you are fully committed and ready to create the future you deserve, and you know you can do it!
Reactive to your ex-partner's words and actions, and fearful of attracting the same type of man in the future?
Restless, that you must keep rescuing and pleasing everyone, yet desperate to pause and relax to recharge yourself?
Lonely and envious when you see other couples around you that seem so happy because you don't have the confidence to go back out into the dating world again?
Tired from sleepless nights and feeling sad for the "happy mask" you put on every day? Feeling unattractive because you want to lose weight and style yourself better, but don't know how?
Frustrated about not being understood by your past therapists, and want to heal yourself naturally without anti-depression medication if it can be avoided?
Out of place with your friends because you are no longer a couple like them?
Wouldn't it feel great if you can move on with your life after being divorced?

Wouldn't it be great if you no longer felt so reactive to your ex-partner's words and actions, nor fearful of attracting the same type of man in the future?
Can you imagine how wonderful you'll feel when you can pause and stop going a million miles an hour, letting go of the guilt of having to please others, and allow yourself time to relax and recharge?
Wouldn't it be wonderful to kick envy and loneliness to the curb, and have the confidence you need to go out into the dating world again?
How fantastic would it be to have a good night sleep, to eat and feel healthier and have a confident sense of style that enables you to look more attractive to your potential partner?
How amazing would it feel to be understood by your therapist/coach and find ways to heal yourself naturally?
Wouldn't it be great if you can find a new set of like-minded friends that can understand your pain?
Imagine in your mind that you are taking a 3-day break from the source of your stress. You learn how to heal from your break-up in coaching sessions from the comfort of your own home, accompanied by an understanding and accepting group and coach.
At the same time, we encourage you as much as possible to create an atmosphere of peace, calm and solitude wherever you are so that you can truly experience the transformative power of the exercises and sharing.
You learn to recognize your patterns and to analyse the lessons that you haven't yet learnt from your past relationships, so you can become more mindful of what you say and think and know how to attract the right kind of partner that you deserve.
And who doesn't love having a massage? Experience a relaxing massage by a professional therapist that will bring the spa to you (yes, we have connections to mobile therapists nationally and internationally), for sure it will help you sleep better and gain that 'rested glow'.
Are you a foodie? If yes, then you will enjoy being able to prepare nourishing healthy dinners that you have learnt to cook together with your fun group by connecting online. It will kick-start your healthy eating habit and eventually turn you into the confident-healthy-glowing love magnet that you deserve to be.
And how's your relationship with money? A bad relationship with money can be a relationship killer. On this retreat, you will learn from a money expert on how to navigate your financial future, so it no longer has the negative power on you. You will feel empowered and able to release this major stress trigger.
Whether you have come out of a bad relationship, or have been alone for some time, you may have developed strong feelings of being reactive, fearful, restless, lonely, envious, unattractive, unconfident and that you are not understood – holding you back in your quest to find true happiness. WE UNDERSTAND.
At Kahyangan, our speciality is providing services to reduce stress, increase relaxation, and strengthen relationships. We understand that in your busy life, you can't always escape to some idyllic remote destination.
That's why we're hosting a virtual retreat, especially for you. This retreat is your chance to take time off from work, to focus on your healing journey for a few days, and experience the peace and calm of a retreat without the inconvenience of having to leave your city.
If you have young kids, this means you don't have to hire an overnight babysitter. It is also 100% Covid-19 friendly!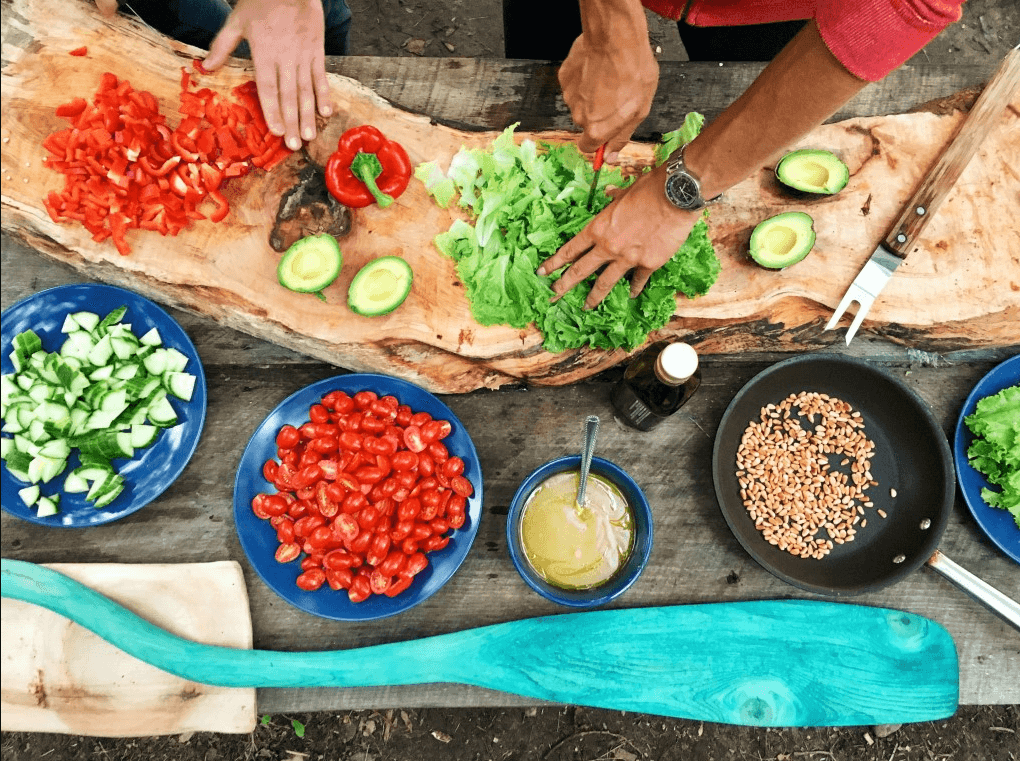 You will learn to cook 2 delicious, not boring, yet healthy dishes that you can immediately add to your cooking repertoire after leaving the retreat and help you gain health.
What a delightful retreat menu activity you will have!
We believe in treating our clients holistically, that's why we include group coaching sessions to help you:
recognize your relationship lessons, let go of your past, choose and practice a healthier eating habit, style for confidence, have a better relationship with money, relax through massage-meditation-movement, and understand the wild-wild world of dating, once you are ready to be the love magnet you deserve to be.
THERE IS LIGHT AT THE END OF THE TUNNEL!

Some people asked: why did you choose to become a Relationship Coach?
I was a rebellious child of a very religious couple in Indonesia. My parents were loving towards me, but I felt the disconnect between them, and an immense amount of pressure from my mother, as I am their only child. How they couldn't communicate well with each other and the combination of family pressures, money issues, religion, shame, guilt and suppressed anger within the culture and country, affected my rebellious nature and made me want to escape.
So I did. By marrying my first husband at the tender age of 21, I flew the country and moved to Australia. Calling Sydney home ever since. It was love, but part of the reason was to escape. Not a very good reason to get married.
Unfortunately, our 10-year marriage was an abusive one. We knew very well how to push each other's buttons. Our relationship ticked all the boxes of a domestic violence relationship cycle, dominantly filled with verbal and emotional abuse. I cried and 'walked on egg-shells' most of the time. I really felt sorry for my close friends back then who listened for years, as I didn't have any family members in Sydney.
I left after 3 attempts. I lost everything material/properties (which disappointed my mother very much), but I had no regrets. I may have lost everything but I gained ME! The most important ingredient in my life! But, also I gained a high level of stress, depression and anxiety. The fun stuff!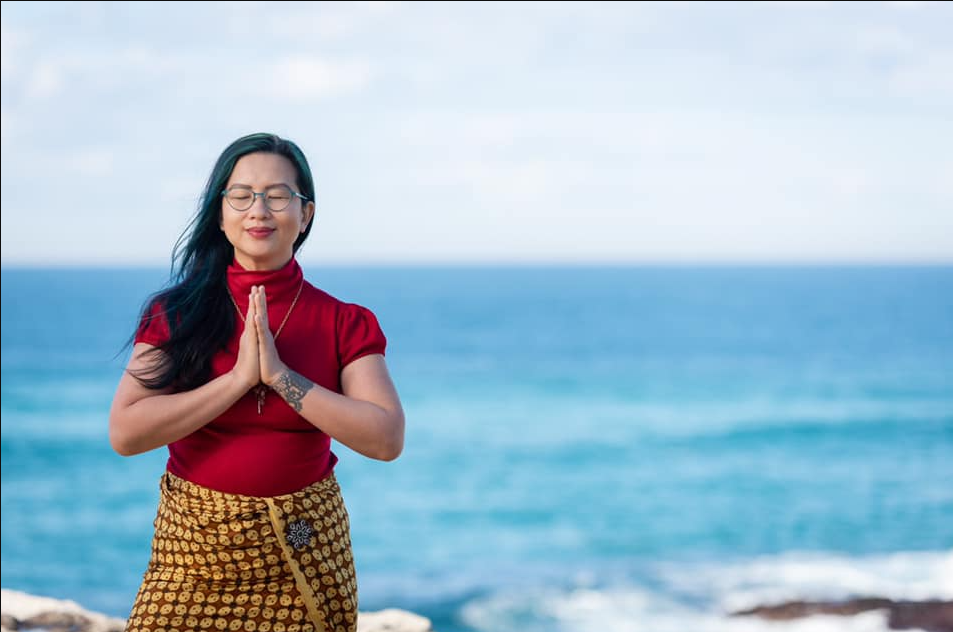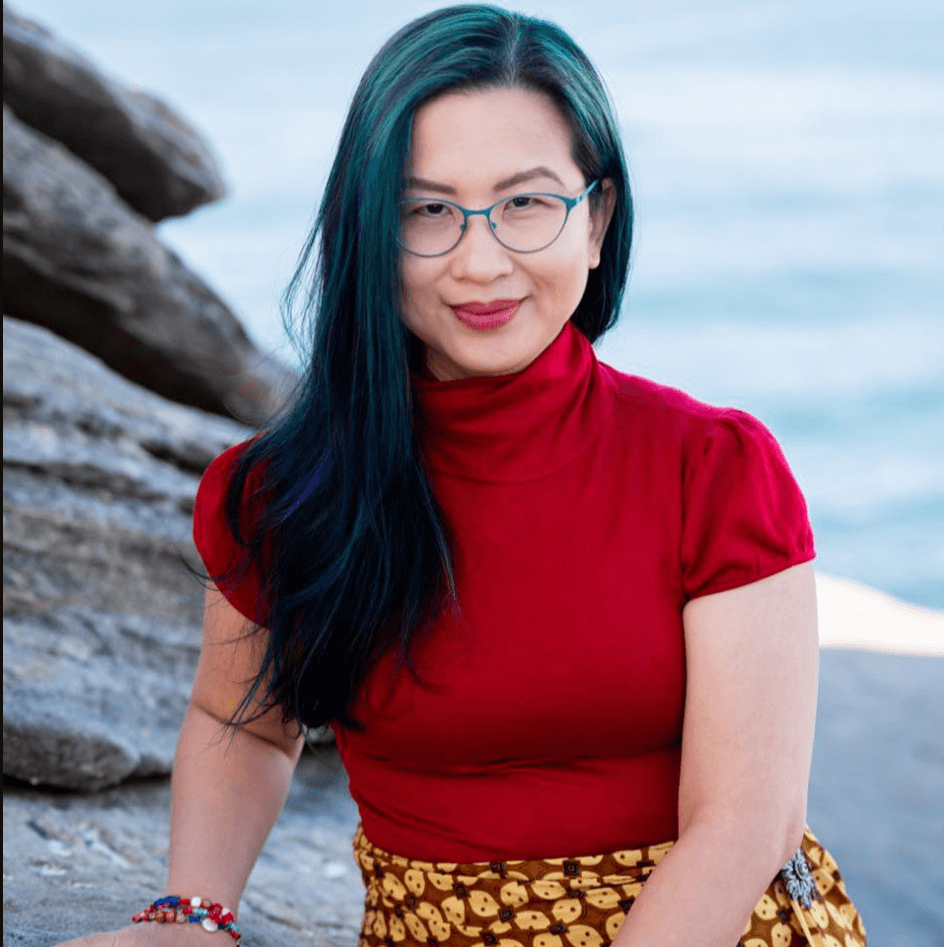 I started my healing journey by going to several self-development seminars, saw a couple of therapists, went back to college to study counselling and life coaching. Straight away I knew that I would be a coach and my niche would be in healing relationships. I have no regrets. My feelings toward my ex are NEUTRAL, and I love him unconditionally.
Navigating the dating world second time around was interesting. But I'm glad I faced it with a light-hearted approach and fun. Yes, I allowed myself to have fun!
I am now happily married to my lover & best friend (aka second husband for 12 years), blessed with 2 daughters, I have no financial debt for the first time in my adult life, almost scoring/buying our first home together. In the meantime, the universe keeps throwing me roller-coaster of life in the forms of pre & post-natal depression and the death of 4 aunties thanks to Covid-19.
Life can be very testing. I feel like I'm peeling layers of my onion. Once I conquered a challenge, understood a bit more about myself, owning my own truth, BAM! Here comes another onion layer!
I go by the principle of "go with the flow", listen to my heart and ask for help. I may be strong, but I don't have to suffer in silence. And I encourage you to do the same. There is no shame in asking for help, and don't feel guilty about it. If I who have hit several rock-bottoms can go back up, believe it that you can too. Going with the flow helps.
Now you know why I love treating stressed people, broken-hearted singles + loving and not-so-loving couples. Because I've been there, therefore I'm passionate and compassionate to help others in a similar predicament.